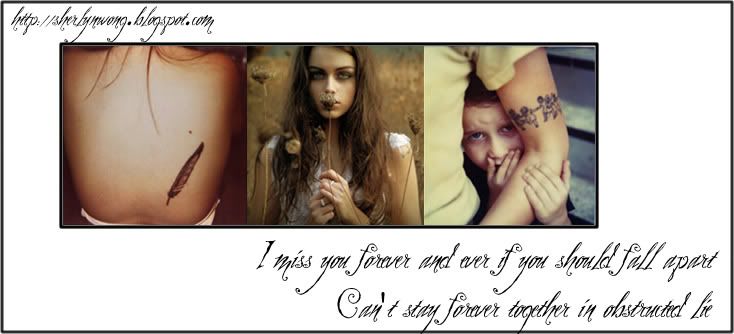 Sunday, April 09, 2006
SURPRISE!!
chiaa laak man.
alot of things to complain.
watched Miss Singapore
saw the winner
saw the winner
saw the winner..
.
.
.
.
.
.
.
.
wa lau.
my grandmother looks better.
no offence.seriously but..

i reallie reallie think jade shld win
1.cuz she's LIKE OMFG the prettiest/most articulate among the rest
2.cuz she looks like a netballer
and
.
.
no.3
cuz she IS A NETBALLER.
HILDANS. she is our SENIOR
-confetti anyhow throw.
WeEe!
wad an honour.
damn i reallie think she shld have won.
haiyahh.




nehow.
yesterdae..nuo nuo *ying nuo* came my church!
laughed alot over soon ming.. lol.
after service..dinner with benster to celebrate my "fake" burfdae.
subway
den coffee at starbucks.
laughed like siao.
nose digging GOLD and all. wahaa.
had a fantabulous time and oh nuo =( i think i caught ur flu and throat thingy..
hee =)



TODAE.
sundae.
CONSTANCE KHENG's SWEET 16.
met up with si jie and chia sing.
cabbed down to her hse.
waited until 8 plus
went to her room secretly.
hid.
she came in.
opened the toilet door.
and got the shock of her life.
screamed.
but her lil bro screamed even louder.
she went "AH!"
he went "AHHHHHHHHHHHHHHHHHH!"

heh.


cons reallie didnt expect it.
she tot benster was meetin her.
nah ah ah. =p
cutted the cake.eated the slice.watc-Hed the Tv.
critisised the contestants.
cabbed home =)


hope cons had a grr888 bdae~ =)
maybe we'll go too far,we just dont care

abt me.