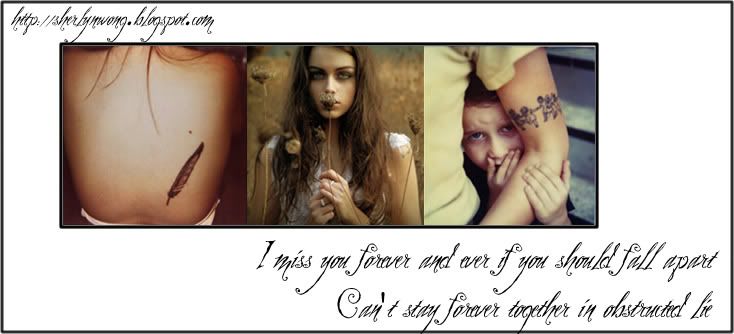 Friday, May 19, 2006
dEar me.
Dear Sherlyn,

im writing to you in regards to your mid-year examinations' results.

i hope u realize,by now,that u have done a terrible terrible job.

with that record-breakin stint that you pulled.

a whoopin 36 points.

i sure hope that you realize that the nearby ITE wouldnt even wana take a second glance at u,much less your results.

sher ah sher.
when will you ever learn?

that success and loads and loads and LOADS of hard work is NEEDED
before u get ur sweet fruits of labour.

i tell you straight in ur shitty face.

YOU FAILED MISERABLY AND HORRIBLY AND IF YOU DONT DO SOMETHING ABOUT THIS FUCK-ED UP SCORE NOW..

.
.
.
.
.
.

its gg to be too phuckin phuckin late man.


your maths.

12.33? upon 100.
wtf wtf.

english.
60.

*WAD HAPPENED TO YOU "Ohhh i reallie reallie wana get a1 or a2 at the least lah.."

combined humans.*geog and ss*

u merely SCRAPED through.

52 on the dot.

u better thank God for savin your arse.u lucky lucky pimp.

LIT.
omg ur a failure lah.

from a A1
u went all the way down.
down down down
degraded
downgraded
all the way to
a lousy B4

now dun tell me ur lucky to get a b4 cuz when u compare a record of A1s and A2s

that is just crap.


SCIENCE was the worst ever.

22 or 28? upon 100.

ur lowest in ur whole entire life of sixteen years.

ur screwed man.



however that said,
i jus wana sae that im a lil proud of you for passin geog even though u left out the whole mapwork blank. cept for one mark. which u scribbled at the last possible second.

and oh,SS too.
even though u kind of left out One whole question.

so yes,in all fairness.
u did an average job.


About the rest of the papers,please once again..

REFLECT.


Remember ur dream.
to go into TP.

and now,ur current lil secret desire which u nurtured ever since u saw that CUTE Raffles JC
guy.

tall tanned handsome sporty.


totally ur type but yes,obviously RAFFLES is out of ur league.

ur brains are reallie .. well,not up to RJ's standard.


i'll stop here sher.

think about it okay?


i'll see you in temasek poly,law and management or Mass COMM next year.



Loads of love and most sincerely yours,

Your mirror image and your most trusted friend,
Me.
maybe we'll go too far,we just dont care

abt me.