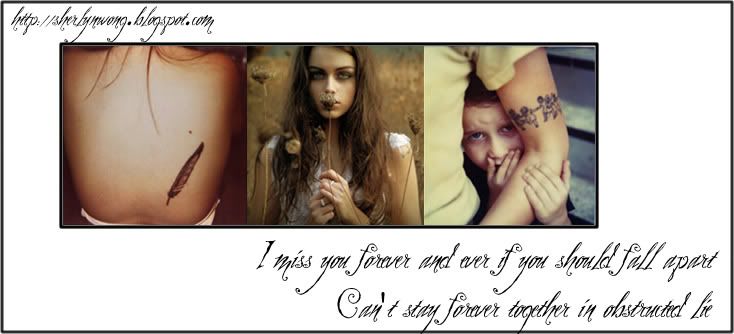 Friday, May 12, 2006
HE READS MY BLOG.
omfgaw.


he reads my blog.


.
.
.
.
.
.
.
i didnt even noe.
damn
shittypoopydung!




oh well.
headin off to town later with the confidante =)
fridaee is gurls nite out and i totally looove the 5th dayy of the week.
gg heeren and far east to get the-one-who-birthed-me's pres and prolly some accessories =)


im desperate to change my layout.
will the best fren's boyfren,creater of diz skin and the gorgeous one before,
please
please
please
help me?


So anyway on a totally different note,i was staring the sky last evening and i had
many many thoughts.

think about diz christians.


wouldnt it be so totally rad if all techno/jazz and classical clubs were torn down
demolished
renovated
and in place of them


brand new whooping clubs for christians.
take away that techno and blast that hillsong CD
take away that alcohol and get high on the holy spirit
take away the scantily-dressed and meant-to-tempt posters
and replace them with the Words of Truth


and we can party and go haha-ing all night long~

heard from benster that city harvest has this school for private candidates to study for their O levels.
geee.
before u noe it,there will even be a mall named after it.

chc's great. =)




oh btw->i realized these few days,my entries are gettin wayy too boring and -so today,i had a bath and i took my breakfast.oh and dinner too.-

sorry yea.
i have NOTHING to blog about.



peace out yau.
laters.
maybe we'll go too far,we just dont care

abt me.