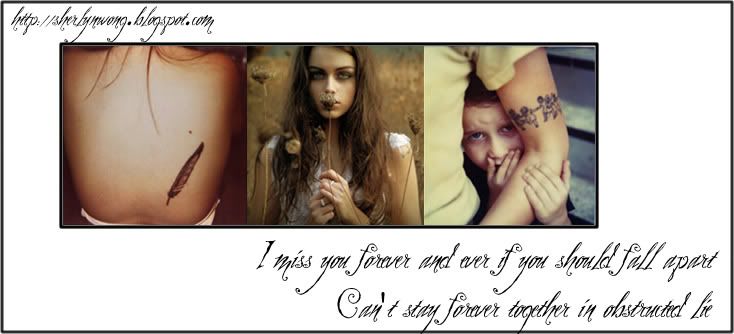 Sunday, May 14, 2006
mother's day celebration
did u see the moon tonight?



it was drop dead gorgeous.
big round and yellow.

i like =)




jus came back from simei
had dinner at jack's place
food was crap.


was eatin when i overheard *Alright,i eavesdropped.*
on this family of 4

teenage son
with teenage daugher
mother,father


father -> "ta sec 3/sec 4? express. NI PEI DE SHANG TA MEH?"
son -> "keeps quiet"
mother rattles on bout N level exams diz year.


i cant stand that father.
since when is love/relationships based on status?

for that freakin ribeye steak sake,
its secondary sch..
not workin life!


gawd. =x



they totally belong in the lets-bathe-in-the-china-river-shall-we? era.


Simei
simei
reminds me of alot of things.

the whole wJ incident still makes me wonder sometimes.
oh well.


Prolly tannin at sentosa tml.

chattin with si jie now.
what he said kinda scared me.


- s [ i ] J i [ E ] - * = says:
n plus ur mid year reslt

- s [ i ] J i [ E ] - * = says:
tt 1 will sure make u wan to study 1


damn.
i hope so.

i really find no motivation in my studies.
LIT paper tml
and i jus cant phuckin phuckin bother.

so wad happens?
i didnt even turn the pages of the book.
i had 4 DAYS.
to study.

but no.
i dun even noe where's the book now.


hey froggy.
i need some bible verses pls. =(





He asked me to reconsider today.hm.


alright i gtg.
to cheer everyone and especially ME up

here's the picture of the two gays
that cons and i chased all over tamp mall to snap pictures of.

love. laa laa laa.


maybe we'll go too far,we just dont care

abt me.