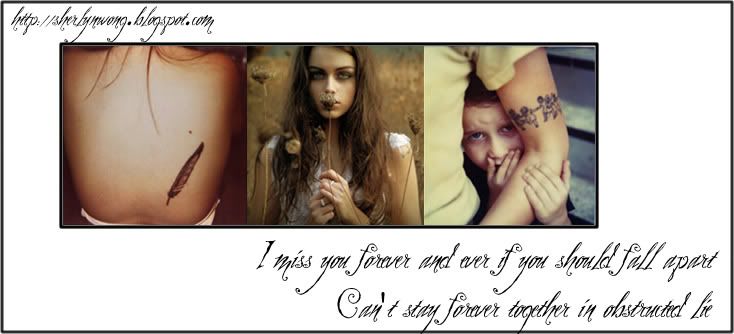 Thursday, August 30, 2007
Faithful One. Holding On.
i was reading chariot's blog
and then via blog-hopping..

found out a lil more about this guy named Alson Tang who passed away on monday,the 27th of August.

Suicide. Took the jump.
Well-liked guy. Millennia Institute crasher. Outgoing. Fun.

the same adjectives and labels.
like a carousel, the cycle of death.

dont you think so?

i dont know him personally but reading those blogs and certain snippets bout how he was such a fun guy and no one knew he was suffering from depression.

and then, the regret that fills the people he left behind.
people who wished they had been there/done something for him While he was Still there.

it scares me to think.
that a close friend of mine could go about living his/her so happily or like hw sean puts it, "a joy mask"

but when the door is shut and you are alone by yourself.
thats when the shadows creep and leech on to you.

im scared to death of losing my friends. (seriously no pun intended)
and i dont want to be there regretting.

for not having taken the extra step.

After Sam's death, my perspective of life/death has been shaken.
to lose a classmate and friend at sixteen.

to read about another death at seventeen.
friend's friend.

doesnt involve me in any way.
but yet..

so close to home.

"O lord. keep them safe please. Into your hands,they've already come. You beckon with love and that cloth of peace.

Eternity. At last.."
maybe we'll go too far,we just dont care

abt me.