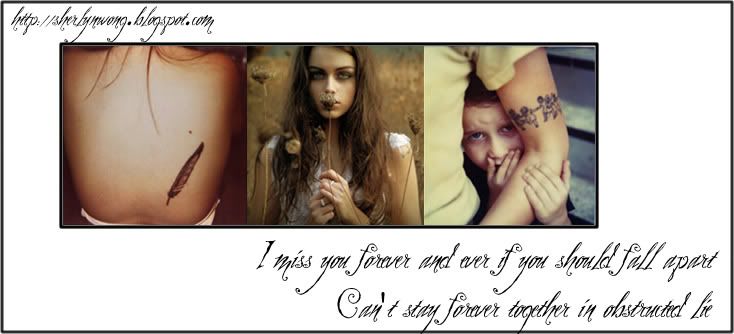 Thursday, August 23, 2007
i dreamt of my ex-lovers last night
[[edited]]

my meds caused me (mummy) seventy freakin mackeroos.
i've poppin these pills like a girl of five on candy.

it sucks that the Orals are tmr.
and i have only 1 pill LEFT for my throat.
i dare not eat anymore.

i leave the last one for tmr.
Dear daddy up there.
miracle please?
i need myy voice back.
ilu.

xoxo-sher.




it sucks that the O level english Orals is due tmr (friday 24/8)
and im stuck here on a thursday with a monstrous sore throat.

so swey right.
bad enough have to retake.
lagi worse i retake on BADD conditions.

how to pull my b3 up to A1?
=(

when i open my sexy mouth to speak. no sexy words come out.
i hear a beastly growl.

i AM A MAN.

i hope for my own sake, (and the invigilator's) that my Big Daddy up there will send me a miracle
so that tmr when i open my sexy mouth,

Media corp will come running towards me with a 1 year singing contract.

Till then,
please dont call my hp to talk.

u all just mockin me.
i dont like you.

-runs to one corner and sulk.
maybe we'll go too far,we just dont care

abt me.