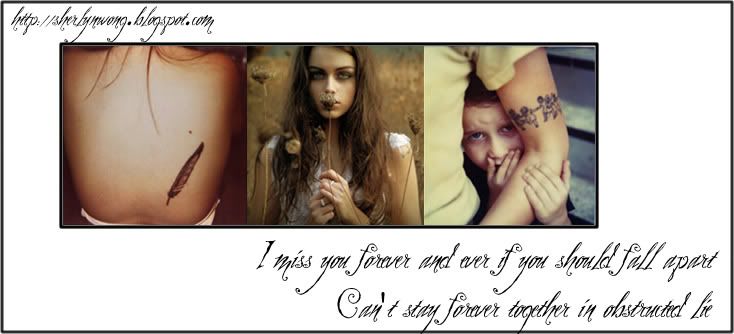 Saturday, September 08, 2007
i dont need you. i need Him.
[[[EDITED]]

hello hello harly yeooo!

its 1151 in the A.m
just 9 more mins to the pee M.

hahaha.

im feeling prettyyy Good todayy.
what about you you you?

Segments of the moov watched last night,keeps playing in my head.

do you know i walk around with my head in the air when im alone?
i like to stare at cloud patterns in the skies.
its incredible, those lil dust bunnies.

maybe one day i'll find someone who's willing enough to forsake his dry bum and set his arse on wet grass
together with me,with both our heads up in the clouds

what a sight we would be!

Yesterday,i was completely and utterly BROKE.
it was pi sai to the maximum sai.

beggar bones!

I had just enough.
90 cents for the bus ride back home from tampines.

Something really.... (gee i cant think of an adjective)
happened.

i boarded 21 and the malay bus unce asked me
"where are u gg?"

state of shock.
brain freeze (again and again!)

i KNEW for sure that if i told him bedok, i confirm have to get kicked out of the bus.

then the uncle said
"somewhere near safra? "

AND THE HORRIBLE LYING FACTORY IN ME SAID

"SOMEWHERE ARD THERE."

which is completely,
UNTRUE.

I STAY AT BEDOK RESERVOIR NOT SAFRA.

(at this moment, i am filled with overwhelming guilt and no i am not being sarcastic.)

gawd i felt so awful.
took a seat.

one stop.

next stop safra.

ugh.
i got up.

the bus reached safra and there i was, feeling hot and cold all over.
like.. im evaporating on the spot.

i couldnt take it.

my terrible lie (AND GAWD I JUST CAME BACK FROM CHURCH WTHELL SHER U BROKEN TOE NAIL YOU)

so i went up to the bus uncle and said

"im really. really sorry. how much more if i have to drop at bedok? im really sorry but i've only got this.

-raises the stupid 1 dollar mrt card (u noe that green thingy where u get ur $1 deposit)

Oh man i felt so humilated but i'd rather this than the horrible naggy sense of guilt on my conscience.

so i expected a full blown scolding or
stone cold words like

"Drop here."

but no.


All that malay bus driver did was to

look at me
smile

like he'd understood.

like he really really understood.

and he said

"never mind."

.........


i duno about you but that made me feel so strange.
i went back to my standing position

and started bawling.

GAWD.

IN FRONT OF ALL THE 12 MIDNIGHT LATE PASSENGERS.

I JUST STOOD THERE CRYING.

WHAT THE HELL SHERLYN WONG.

den when i alighted from the bus.

the uncle looked at me and i looked at him
and i burst out into this happy smile and i was smiling so Widely it was superb because it was so genuine and so was his smile

i waved and he waved back and oh gawd i started walking home with a rather sniffy nose and sucha light light heart.



oh dear.
Thank you DaddyGod.
thank you for giving me the guts to admit my mistake.
oh gawdsh. i would never have done it if it were'nt for you.

=D
-------




Pardon me.
i've the most exhausting day.
Tonight, i caught a movie from the past and i watched it under the stars.
on a rooftop.
it sounds so pretty isnt it?

i think so too.

especially since i was getting hyped up over the lingo used.
my favourite fav ver retteeee.

"could you dilute my feelings?"

"have you found God,sir?

"no."

"He Found Me."

geeeeeee..

im so exhausted.
did i mention that im exhausted?
cuz i am and i dont think i can blog more than what i have already said.

what have i said?

oh golly im rambing.
will post tmr.

ITS FLEA MARKET TMR.
gg with samo and vicky.

i can't decide what to wear.

oh the fuss.
its unbearable.
maybe we'll go too far,we just dont care

abt me.