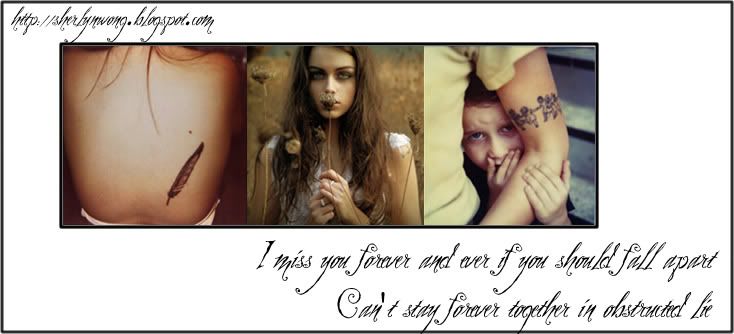 Saturday, September 22, 2007
My hope is in the name of God.
Yesterday(Fridayy)
was spent 45 minutes loner-walking (oh my golly)
After tuition thanks to Someone but now its okayyy and frankly, i didin really mind That much.

But i saw so many familiar faces at tamp.
tskk.

=( =)

this particular incident when i was walkin outside the mrt station and this grp of guys 3 of them came up me and my goodness you could just practically ambush me at the speed of your approach. they brisk-walked and stood so near i bet they could smell every inch of my green tea breath.

"excuse me miss. ke yi zhuo pen you ma?"

Blueberry muffins!

do i look like the kind of twit who speaks cheena with you and gets picked up on the street?

in my most icy tone, i said, "uh. no?"

then was immediately ambushed yet again by this lady giving out flyers.
She thrust one at me so i took it and she glared at them, and that was a pretty hilarious sight, only thing is i was alone and i didnt like being alone and my mind was frantically working how to kill hours before going cell.

R told me to meet her at 420 and it was 145 and i didnt reallyyyyy wana go home.

So the impromptu decision to 65 down to Town area and thankgoodness nuo,mew,sharon and birdie ben were in church.

Cell was awesome as usual, just that i felt exceptionally lethargic and exhausted.

A lil incident after that left me feelig irritable but walking that off while on the wayy to the mrt sorta cleared everything and im all finee and dandyy now.



Its 814 in the morning.
the weather is gorgeous and im feeling so .. calm and please ya noe?

i am so blessed i truly am.
have got great friends and seriously, the most awesome One ever.

what more to ask for?

Nuo shared something in cell yst night,

God told her, "Am i not your Everything?"

which really struck me.

i know a cuppa of days ago, i uploaded my birthday post this year and i said

'sigh, how things have changed."

i look back at that entry and seriously, i am in no position to go sigh-ing whining and wondering if things would be better now.

Because,

Everything is done For a Purpose and onlyy my DaddyGod up there knows it.

last night, while doing QT.
i got struck with this word.

Patience

And i think,that word by itself, just opened up new perspectives and arises to new hope in my life.



i am thankful, grateful and so blessed.

i know its silly to compare myself to them but always when i think my ingrate side's remerging, i think of the lil kids in africa.
and how many thousand wayys am i more blessed than them?

frankly, i dont even have to look so far as to Africa.

Tamp inter,bedok inter, Townn.

you see the beggars and baskers.
to me, it doesnt matter if they are fake or genuine,

the fact that they are There.
It shows and means something to me.

it breaks my heart to see them, helpless in their own individual wayys.

And i really.
really.

want to do something Good.



i know im not someone who can change the world.
but i know i can change MY own world.

And im starting slowly.

OH.

i needa blog bout this.
im bragging really but its true and char z and zer er are witnesses to that hokayy.

so we were in the cab to cathay 2 days ago.
yakking and giggling in the backseat

the taxi driver said he liked my voice and told me to go TCS and audition.
( HA HA HA)

then he said i looked like a japanese girl.
( HA?)

yes im bragging, sher so show off right.
i also sayy.
-flicks hair.

yeah anyway i was thinkin of seriously seriously workin in the media industry or pursue the dream i always wanted and that's to be a lawyer.

I can be the next fiona xie minus the boobs.

hur hur.

I already know what i want, but i know God already knows What HE WANTS.

so here i am, waiting patiently.

Oh hasten,lord!
i cannot wait =)

and yet, i dont wana groww up just yet.



825 am.
and i've got a longggg dayy ahead of me.

basketball at mp with Z,Derr,ky and mere.
Home to bathe and change.
Lime Flea Market
Haji Lane
Arab St
Moov(maybee) and din din
then down to East coast for Nana's birthday partyy.

=)

im out.
byeee!
maybe we'll go too far,we just dont care

abt me.