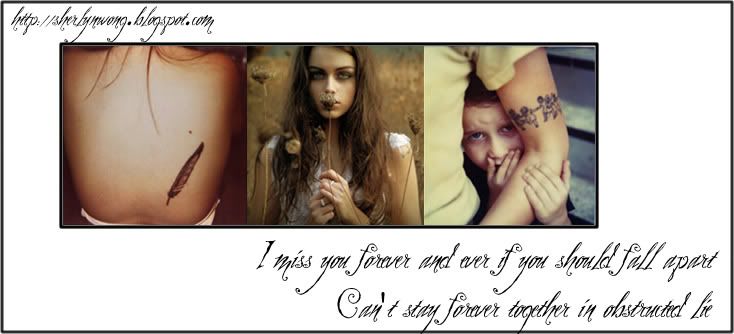 Friday, September 14, 2007
Shadows and Regrets


hello stranger.
i barely know you
and yet..
you interest me so.


These past 3 days.
summarised.

Tamp starbucks.
Simei Starbucks.
"mugging" overnight at myy place with Zer and Char.
Bernie's crib for -inserts secret notion which cant be revealed just yet.

Many things have happened.
doesnt really involve me in any sense but yet,in some wayy.
i still get affected.

People make mistakes.
don't we all?

Time does wonders.

Let it go.

Getting wasted.
is that cool?

Sense of high- yes.

..and then?

its okay to drink.
totally okay kay dandy yo.

gawd, Jesus even drank!

but to drink till you get drunk.

is that right?

im not preaching.
im asking.
im not judging.
im wondering.

why?

im gona get a thousand hate comments from the party-goers.

but i guess.
thats my stand.

its not wrong to party.
its not wrong to drink.
you drink.
but you dont get drunk.

the limit is always there.
just one step out of the yellow lines.

and then.


you're out.



Exposed.



happy pills.
maybe we'll go too far,we just dont care

abt me.