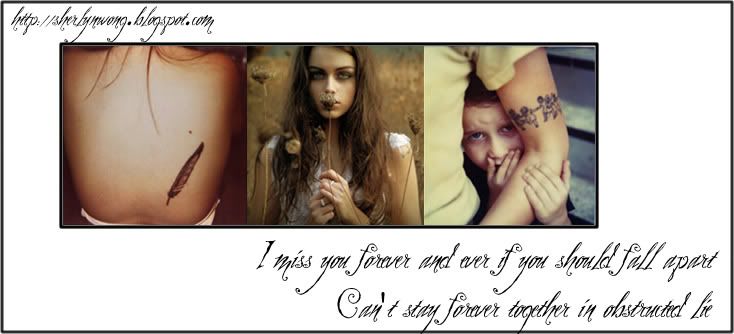 Tuesday, September 11, 2007
Tried to take a picture of love.i wana fill this new frame but its empty.
That electric whisper of his.
That frozen murmur which paralyzed me.*



i have strange thoughts and memories floating in this pea-brain of mine.
i hope this goes away soon.

i keep having dreams about you.
this is the third night consecutively.

why?





goodbye grey contacts.
you scared me for 1 month.

im glad its goodbye.

i have such sparse eyelashes.
not fair.

im rotting at home.
u noe rot?

R-O-T

i want someone to go around taking pictures in obscure alleys with me.
we'll go around Sg.
and we'll take brilliant photographs.

problem is..


who?

Labels: Eyes. photographs, obscure alleys
maybe we'll go too far,we just dont care

abt me.