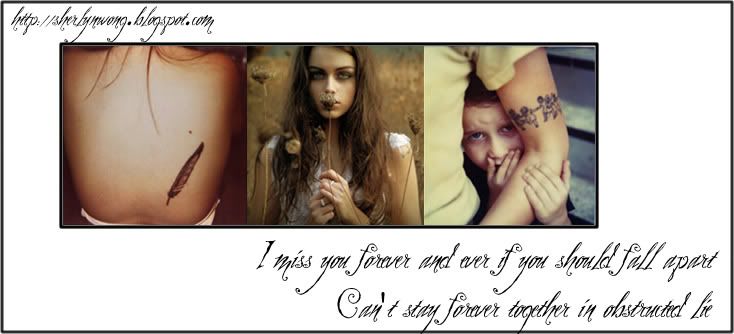 Tuesday, September 25, 2007
whatever happened to our innocence?


Could it be that nothing's gona change.
Cause time has a way of taking back Everything you thought you had.
Can you see
The boyy you used to be.
The one i lost when i let go of you.
Oh whatever happened to *

i just wana let you know.
im not a lil rubber ball.

not for you to..
happy then play, not happy kick one side to let it roll.

Thats your flaw.
Treating others According to your moods.

im kinda tired of this.
Lets not play anymore.

-----------------

Swam at R's place with Twin but rach wasnt at home.
pretty sun-kissed.

look.
im studying for my o level maths while 'swim-tanning'
brilliant multi-tasker this girl is.



Thats my heart.


Twin's has fangs.
A thorny heart.
The lil plaster is so apt.



She has this gorgeous bag from flea. her older sis's one.
damnit.
i wished i'd gone earlier.
=)





Not feeling very happy today.
3 people contribute to this.

Thanks.



coward.
maybe we'll go too far,we just dont care

abt me.