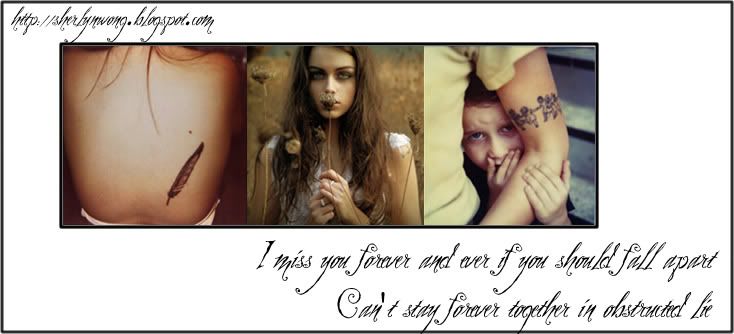 Sunday, October 28, 2007
1 more day sher.
what a long day.

tuition
home club
Flea market
Simei starbucks
simpang for din din
simei starbucks

---edited.

upload pictures tmr ok.

photobucket's not working.
i think God's telling me not to blog.

1.29 am.
im gg to fall asleep soon.

i didnt study much today.
in fact.
only 2 hrs of tuition.

i carassed freedom at Clarke Quay and im suffering from the bittersweet after taste of it.

i cannot .
BREAK MY CONCENTRATION.

2 more days to o levels.

oh wait its past midnight.

1 more day To Os.

im so screwed you know.
i haven done ANYTHING AT ALL FOR ENGLISH
and my maths is just kaput.

i thought i was improving
but today at stabucks, i found out im not.

sigh.

Labels: Clarke Quay, home club, simei starbucks
maybe we'll go too far,we just dont care

abt me.