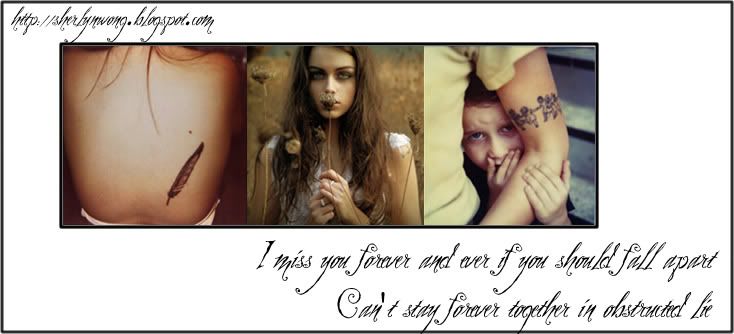 Sunday, October 14, 2007
1.2.3.4 tell me that you love me more. oh teenage hopes.


thats my gloomy face.

my body's breakin down i can feel it and im in pain okok. i really hate this.

MOTHERFRIGGING HEN LAY EGGS.
BLOODY BANANA BLUEBERRY MUFFIN.

im feelin very un-smiley right now.

my right palm has a dark red blister cause of the crutches.
left knee still hurts. just as much. not any better.
arms and back ache cause of the crutches.
(BLOODY CRUTCHES)
my gums are hurting WHY CAUSE I THINK MY WISDOM TOOTH IS POPPING OUT
HELLO TOOTH GUESS WHAT THIS AINT THE REALLY RIGHT TIME.
GO BACK IN YOU .. YOU TOOTH.

so basically the summary is this.

i. am. falling. apart. literally.

O levels in two weeks and one day.
15 more days.

and what did i DO TODAY?

OH NOTHING EXCEPT WATCH GOSSIP GIRL ON TV LINKS AND FINISHED PRIDE AND PREJUDICE OH YES AND I CAUGHT MUSIC AND LYRICS PLUS EVAN ALMIGHTY YESTERDAY.

fantastic.
not forgetting the pounds and kilos im piling on because mummy likes to feed her lil baby despite violent protests(ok actually nt really)

PIZZA
MAC DELIVERY
FOOD.
FATS.

lastly to end off this horribly depressing entry,
i realize that i cant do SPORTS.
(wow sher, now then you noe?)

i cant do jump shots when i take pictures.

I CANT DRESS UP ANYMORE BECAUSE WHO WANTS TO SEE A PAI KA IN PRETTY CLOTHES.

PLUS I CANT GO SCH TMR.

and best of all.

bintan trip is FRIGGING CANCELLED.

im damn pissed and i almost broke down.

i placed so much frigging hope in it.

what a great day.

bye.
maybe we'll go too far,we just dont care

abt me.