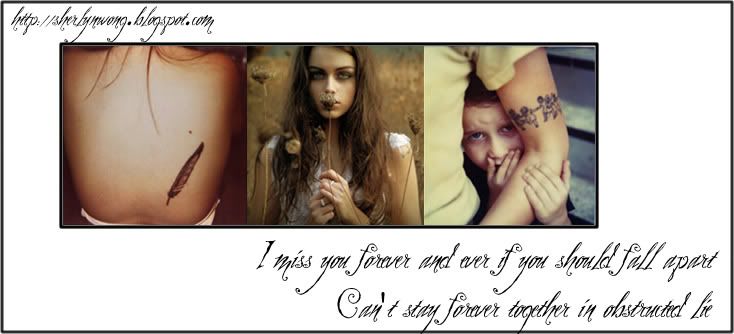 Friday, October 26, 2007
3 more days to O LEVELS
simei starbucks crew.

"why your face so sian!"

"smile leh!"

superbly nice people.

imma sucha regular now.
always manage to get MY TABLE.

i got starbucks face now and i think i smell like coffee beans.

also, my butt has permanently glued itself to the wooden chair in *$.

not very comfy.

oh well.

mj boy 1 and mj boy 2.
they smiled at me.

its a regulars-thing going on.

everyone acknowleges each other.

bestie likes mj boy 1.

studied with her after flying down from ngee ann.
first stop to SHSS.
sch's rather dead.
THANK YOU DIANE. sorry for all the trouble yo!

best stayed till 6 and then she left me by my lonesome self.

today was tiring.

3 more days to O LEVELS.

my skirt's wet from all the nervous pee-ing stains.

tmr,im heading down to home club with nel and nette.

hopefully it will be funn.

----------

something troubled me so very very much today.
if it was anybody else who did it to me, i would have been terribly pissed and i was quite surprised at myself for not getting even the slightest bit. angry at you.

stupid derrick chen.
i've got a soft spot for you.
i dont know why also.

damnit your the first boy who ever like this to me okay.


im starting to feel pissed with myself for not feeling pissed with you.

idiot derrick. stupid derrick. shit head derrick.

stupid sherlyn.

sigh.
maybe we'll go too far,we just dont care

abt me.