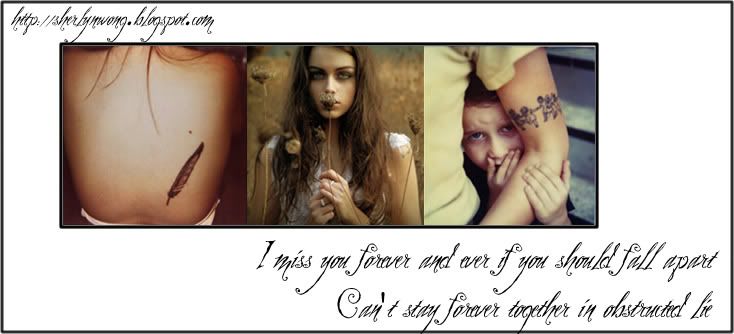 Wednesday, October 10, 2007
doesnt care. Never did. Never will. Okay.
i've done it again.

wrecked my knee.

my ligament's half torn and the chinese physician said.

"one more time. you needa go operation."

it happened at the overhead bridge at tamp.
ran for the bus cause i saw 27 and i thought Z was in it.

flew down the steps

then

"SNAP."

my whole knee gave away and i fell on the steps.

ever sat on a bridge crying?

well i did.

15 minutes.

loads of passerbys some helpful some not.

but i waited for Z to come.





what a great way to end off this last week of hols.

what a great 2007. =)

Labels: bridge. ligament. Pi cha. Airport, Delifrance. Cabs.
maybe we'll go too far,we just dont care

abt me.