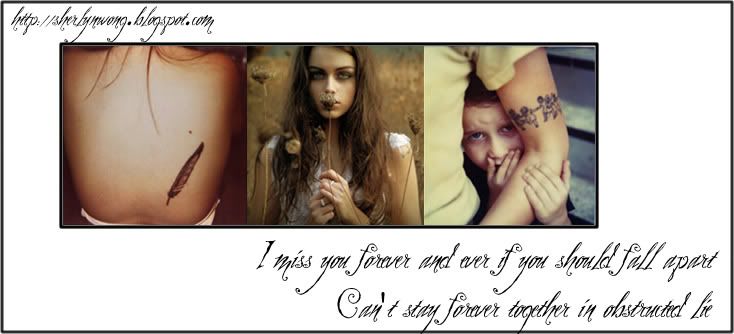 Friday, October 19, 2007
Its still you.
today, i woke up at seven and took an hour bus ride down to ngee ann polytechnic

where i spent

1/4 of the time reading Vogue and tearing out pictures from it.
1/4 laughin AT chanel
SLIPPERY HANDS ZOMG ZOMG SLIP OOPS OOPS SWEATY PALMS OOPS HAHAHA ZOMG.

and the other two hours..

Folding paper.


=x


i cant believe 3D art.
pottery is sexy yes but paper no and omg 2 hours to fold that retarded 20X20 come-from-tree white object.



it looks easy right but i tell you looks are very very decieving.

mine which looks like toilet paper that even beggars wont use



mm.



lunchy with chanel where we people-watched
because she's attached she couldnt boy watch so hur hur hur i did that ardous task for her.




today she told me

"you shouldnt give up the whole forest for one tree."

so cliche right that nel.
must be google/yahoo that one.

so i sat at the canteen and looked at the Forest which consisted of many trees which i consider to be not trees but the bugs on the trees.

the only one i saw who could be deemed as Tree material

sadly, comes from SP.

we were at DOVER

white polo tee,emo matted hair not too long just nice,black skinnies, the right sneakers
hot face hot bod

(dang, i sound so superficial)

only SP gt hot guys.

dont you dare disagree.
this one im right.

maybe my tree's at SP.

but the thing is, i dont get into relationships easy.
it takes a lot a lot a lot for my heart to get stolen after the sec 3 incident.

seriously.

i dont do flings and i dont get into r.ships with a every different boy now and then.

i think its silly to give so many boys a part of you but then again who am i to say.

i have weird thoughts anyway.




on the topic of boys,

today i was at my house bus stop waiting for 5 to go school when suddenly this dude in hoodie appeared and he boarded and then same bus change same bus then i realized he was gg ngee ann too.

Cool shite yoar.
why never see him before.

he's prolly bout 1.8
really tall considering my height (ok dont read this line EH I SAY DONT READ)

so i looked at him while he stood there,plugged in to his ipod while i sat down and geeeeeeez.

he was lookin out of the window and up at the skyy for a reallyy long time and idk why

but my heart moved/shifted slightly

because he kinda reminded me of me and so i peered harder to see if he's a smoker

(you see, i have a gift for this sorta thang)

and suddenly FLASH

i saw BRACES.

HAHAHA OMG.

STEADY BOM PIP.

every friday morn 7 am wait at bus stop for braces boy who looks up at sky like me my kindred soul

who knows.
he might just be

the male me.

HAHAHA.



mrt-ied down to the airport to meet Z and Nicholas

idk why again but gg to ngee ann then comin back to study has failed miserably
i felt so tired and seriusly 6 hrs doing nothing.

i am damn pissed at myself.
i feel so tired

its 10 more days.

im so scared.

-----------

met RACH at tanah merah at 9
haven seen her in 3-4 weeks

we ZOMG'd each other (hahaha)

simpang

<3 to <3 convos and thanks Rach =)
i learnt a lot bout a lot of stuff today.




thats my primary school =)





we walked around a lil then i went to meet L who walked me to my bus stop and waited for my bus near simei.

thanks =)

HAHA.



Labels: airport, braces, bus stops, ngee ann, paper folding, simpang
maybe we'll go too far,we just dont care

abt me.