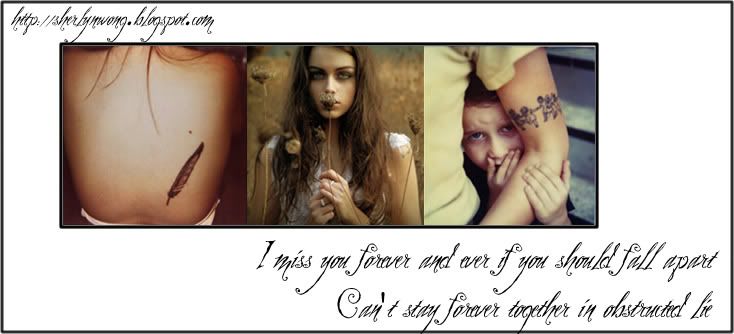 Thursday, October 11, 2007
memories of you, things we used to do.
ah
la
mak
fullstop
.

im blogging again.

supposed to study maths.
whole day do one question then pew pew flop on sofa and K-O-ed.

felt very lonely.
then suddenly someone called.

=) =) =) =)

myy goodness i respect him so much.
hearing him talk about God was amazing.

he's amazing.

i felt my heart move.

shit.

sher shame shame.

then Another person called.

and hearing the person cry on the phone broke my heart cause in our friendship, im the crybaby.
im very cross at the person who broke her heart and i wana castrate him.

please DaddyGod, heal her.
please make her happy again.
please?

today was a bad day.
but the 2 phonecalls made me think a lot.

Labels: 2 phonecalls, happy heart sad heart.
maybe we'll go too far,we just dont care

abt me.