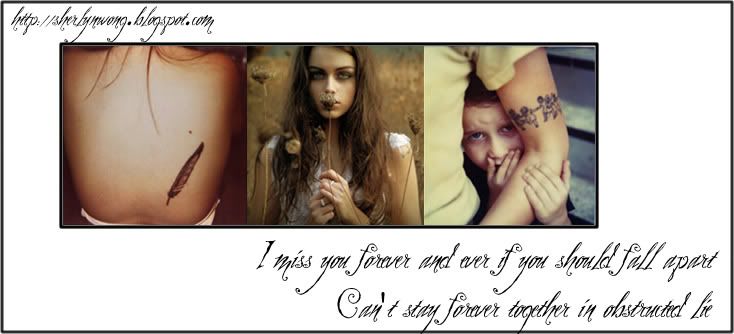 Monday, October 22, 2007
Still you call out through the rain and calm the Storm in me.


1249 am
just got home from simpang.

Dins/supper with Bie,Adriel, Nicky and Jerm.

nnpoks try to con me bout the mutton/sheep thang.

nicky to adriel : so you having holidays now?

me : he's taking A LEVEL LAH. LITTLE BOY.

Lil boy nicky talked to big kor kor adriel.

HAHAHA.

nicky today very nice.
agree with me with whatever i say.

"as long u happy can already."

hahaha.

wait.

i think he got ulterior motive.

mm.

must be wana steal my GRANOLA.

Today.
Church.
felt so weepy during worship.
i miss church.
=(

Oh lord oh lord you are so so so so close to me.
all i want and need is you.
really.
just you and you alone,MY DADDYGOD.

flew down to simei starbucks to meet adriel.



mugged mugged.
exchanged ipods with him for awhile.

mannnnnnn.
he's got the most no. of christian songs i've ever seen.

so nice to see that. =)

oh and.

AYE BEST, MJ BOY WAS THERE AGAINNN.

tab came around eight plus.
coached me maths and seriously, super thankful for her =)



persuaded Adriel to go dins with us the we 9-ed down to simpy to meet the other two duuudes.



the shop didnt sell my fav strawberry prata but the nice uncle was sooo good and he made one specially for me. =)

jerm tt banana brain said its left over jam.
BULL.





boys are bad photographers.
especially nicky.





WHAT IS WRONG WITH YOU. HAHAHA





what a great day.
=)

Labels: church, mugging, simei starbucks, simpang
maybe we'll go too far,we just dont care

abt me.