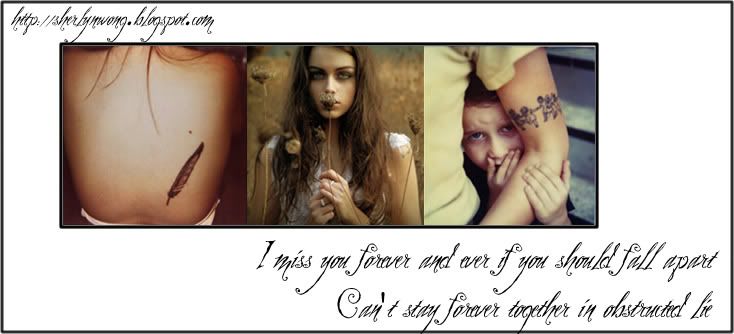 Sunday, October 21, 2007
where would we be now,baby if we found each other first?
SIMEI



walked in and

Mj boy smiled at me.

-pokes bestie x10000.

jared and his other two PW group mates were there too.
funny fellas.

Tabbie came after the dinosaurs laid a million eggs.

Mj boy and his friend left for lunch and he asked us to help look after their stuff.

sure no problem okaydokeyohh.

-pokes bestie X 10000.

tab and i did a VERY NAUGHTY THING.
she's super daring

ZOMG. ZOMG.

hahahaha.

Mj boy left.

HE SAID BYE.

-pokes bestie X1000000 times.

best i cant wait to tell you his name.
you sure GOT A LOT OF THINGS TO SAY ONE.

muggin till the late hours.
texting adriel a.k.a wooly choo then omgawd i realized he was from SRJC and not CJC HAHAHA AND THAT HE'S Tab's pri sch friend whom jeanette knows too and ZOMG WORLD SO SMALL ZOMG.

( i find ZOMG DAMN irritating but i cannot stop sayin it. especially out loud. ZOMG)

Adriel Came down and the three of us mugged.

poor boy, he's super stressed.

he FORGOT his teacher's name.

i pointed at his drink and i asked, what flavour?

he just stared at the drink,

STUNNED.(as in he just STARED BLANKLY)

cause he FORGOT.

hahahahha super funny. everything also forget.

tab left bout 10.

Adriel and i continued bout till 11 then nice friend walked me to bus stop then i 5-ed home.

tab's chinese storybook.
i <3 these lines.



her maths question for me.



my camera shy friends.





tab's the bestest maths tuiton teacher like ever ever.



LOVE U BIE.

--------

my knee's causing me misery.
its breaking out in rashes and im stuck with leggings and skinny jeans.
itchyyyyyyyyyyyyy.

-------

today adriel said something very very striking.

i asked him if he was gg church tmr.

he made a face and i went huh.

then he said

isnt it super obvious?

i was quite taken aback

cause some people have reasons like.

"got exams now. go church after that."

and this is A levels that we're talkin about for his case.

said something else too.

Man. Of God. =)
inspiring.

---

am feeling reallyy tired.

just 9 more days.

hang on sher.

Labels: mj boys, mugging, simei starbucks
maybe we'll go too far,we just dont care

abt me.