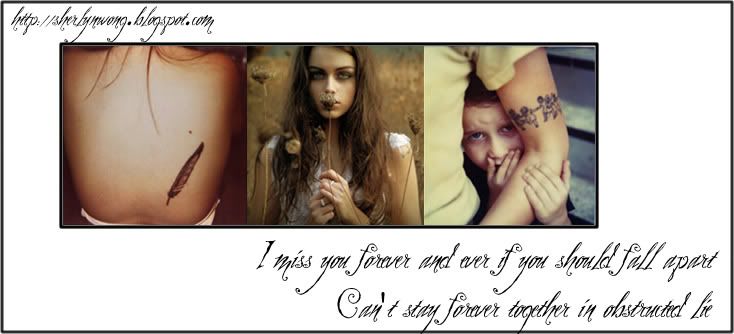 Friday, November 02, 2007
My king will Vindicate me.


i broke down in 3D art today when the lecturer called my name and asked to speak to me.

miss wendy wee was being really nice and all.

yes.

i want to drop out of np.

but my mother doesnt allow me to.

i dont think anyone else really knows the frustration i feel.

2 hour bus rides to and fro every day.
6 dollar on coins simply because i want to get my TP POLY CARD and not ngee ann's.

feeling like shite cause this 2nd sem sucks real bad and one of the lecturers GLUED me in his black books already.

dude thinks my knee injury was a fake when i turned up for his lesson the following week.

"you knee seems perfectly fine to me."

then third week (last week)

i didnt go for his lesson cause i had freakin O levels to take and

then i heard from the classmates that he apparently made some really sarcastic remarks about me and how i was gg to fail his test or module or both or whatever.

im seriously miserable.

every freakin ride back home from ngee ann makes me sad and sick.

i wish my mum could understand.

Also, i am contemplating the decision to take up fashion design in tp or laselle next year if i seriously dont make it to mass comm.

Miss wee says im seventeen.
so young and i've got my whole life ahead of me.

told me that she felt sorry for me because im in sucha bad position

but i told her that i was really thankful that i wasnt put in nursing in my this one year.

i'd think i'd killed myself with a needle straight away.

one more thing.

apparently, lecturers and directors of FMS have been surfing DVFX students' blogs.

and considering the fact that there's only 30 of us in the whole course.

im pretty sure that mine has been scoured.

so from now on, everything about np is censored censored censored.

although yes it IS PRETTY OBVIOUS aint it that i dislike the course im in.
someone else deserves my place.
not me.


Mum's agreeing to sponsor me for dress-making lessons.

fantastic.

a new skill.

oh wait.

A SKILL.

kinda makes me wana call someone up to tell him.

but then again. forget it.

he's into girls who play piano, dance , do wakeboarding and etc.

too bad.

guess thats just me.

muscially, artistically ANIMATEDLY (as in animation not movement) , 3d artly, writ-commly.

Dumb.

im feelin pretty low about myself.

tomorrow, i think i might wana go walking again if the weather is bad and twin and i dont go down to R's place to swim.

any takers?
maybe we'll go too far,we just dont care

abt me.