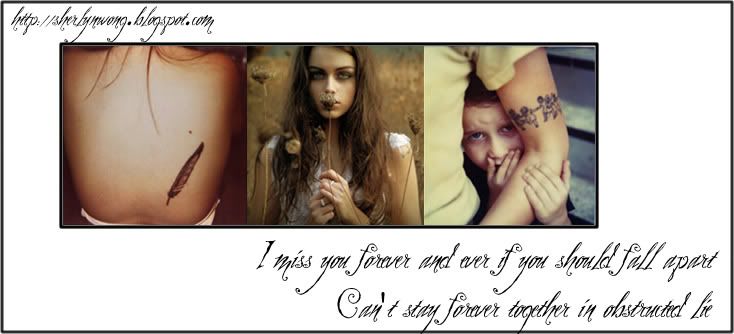 Sunday, November 11, 2007
You make me lose focus.


it seems strange to me how fifteen minutes seem like sucha quickie while twenty on the other hand feels like...
forever.

"nnm, the bus took 20 minutes to come leh."

"whoa, the journey was only 15 minutes."

different contexts i know but mm.

tickles me grey.

so. Facebook. Bible Verses.
Today's.



Ecclesiastes 7:14

When times are good, be happy; but when times are bad, consider: God has made the one as well as the other. Therefore, a man cannot discover anything about his future.



well, that makes a lot of sense man man man and thus im followin these wise words.

just go on anticipating with hope.
now thats alright, right?


i caught my episode 7 of Gossip Girl (finally)
watched a british film, "Summer of love" which halfway thru the movie, i found out about the two lesbians.
finished up one of the novels im reading.
completed 3/4 of John G's First novel.

i was supposed to go swimmin at R's place with Z but obviously, Mr sun didnt seem real jolly today.
grey skies in the morning then noon then evening where i left to simpang to meet Z.

din din was the usual.
took a few piccas but im not really in the mood to load them up.

10-ed down to tamp where we caught

"LIONS FOR LAMBS"

at century square.

oh golly there was a rather heated up discussion between Z and the lady behind the counter.

its NC 16 and Z didnt bring her IC/ Ez link along.

apparently, the lady didnt believe that Z was 16 and whoa Zer was so pissed.

i tried to negotiate but dang, to no avail until i asked the uncle at the ticketing area ( you noe the place where they rip off half your stub?)

if he could let us in and he was like sure no problem

so yayy problem solved, got this nice fella to help us get our tickets and then in in in to the moov-theatre.

so the film's basically about politics.

war in america and iraq/iran.
it made a lot of sense but i didnt really like the ending.

its 12 25 and i've just reached home 35 mins earlier.

im feelin pretty..

idk.

melancholic i guess.


time to get those christmas cards done . (DIY baby)

loadsa jingle bells and caroling this year, i presume..

but mm.

i dont feel really christmassy this year.


i need change.

oh hurry end this year 07 already.

Labels: films, lions for lambs, novels
maybe we'll go too far,we just dont care

abt me.