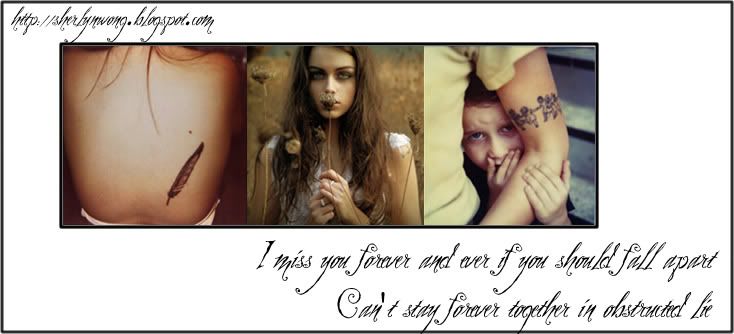 Monday, December 31, 2007
31st December 2007. The quiet things that no one ever knows.
it rained that dayy.
as i nursed my wounded limb.



31st December 2007.
last freakydickyy dayy of the freakydickyy year.

what.
a.
trying.
year.

here's a summary and here's the usual new year resolutions that stayy forever as items on a to-do list but never heeded never completed.

2007

fear.
Dreadful O level results.
failed maths
nowhere to go.
fear.
God.
prayers.
fear.
hope.
envy at friends' smooth sailing into polyy.
wishing i could enter a poly.
ANY COURSE. ANYTHING.
hope.
fear.
Admission into Milennia Institute.
NISA.
dropped out.
hope.
1 day before my birthday celebration.
a call from ngee ann polytechnic.
eternal gratefulness to Vee.
Acceptance.
GOD.
no clue as to what the course is all about.
NGEE ANN POLY.
DVFX- Sch of Film Media Studies.
15 new faces.
CHANEL.

Kum Yan Methodist Church.
Sean Tan.
Donuts.

April 12th.
Turned Seventeen.
chalet.
fish and co.
the most memorable,sweetest happiest day of my life.
Stefan.
blue roses. Gummy bears.
what a stupid redundant question-yes.
airport.
one month.
ugliest pair of drum sticks.
stefan for christ.

May.
empty.
illnesses.
sick every once in three weeks.
tears.
mc mc mc.

bouts of depression.

sick.
hospital.
Food poisoning.
Sunflower.

Adriel.
east coast.
happy.

2 weeks.

Simei starbucks.

O levels.
retook eng and maths.
Disquiet Satisfaction.

tore leg ligament.
a week on crutches.
physically handicapped.
ZER.

heartache.

fastfoward.
Sentosa Trip.
Silo beach resort.
4 girls 2 guys.

Camera.
water.
pi cha gone.

bonding with classmates.
slight reluctance to leave np.

Gabriel.
punggol house.

fast foward.
tore leg ligament again.
heartless.
demanding.

slight heartache.
miss.

31st december 2007.
-edited.

what a year.
glad its over.

i have only one new year resolution.

and i hope i can keep it.

'to stay firm and steadfast.'

countdown in town or marina square l8er i think.
b-o-r-i-n-g.




the quiet things that no one ever knows.

so apt.

Labels: last dayy., new year resolutions
maybe we'll go too far,we just dont care

abt me.