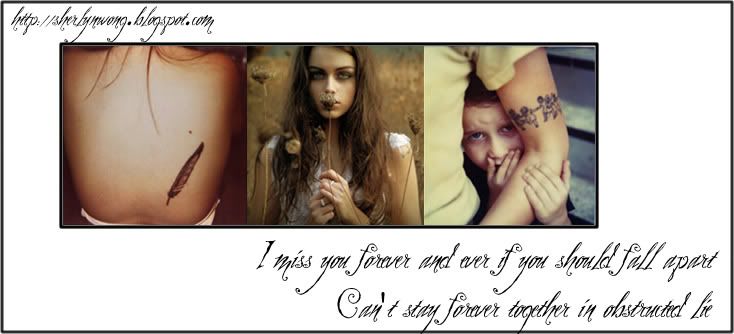 Monday, December 10, 2007
hope. hope may pull me down.
there's this ache in my heart.
im so afraid that i will get disappointed.
I dare not ask God for a sign.

im scared the same thing will happen again.
might get my rather feeble heart trodden and pushed about.

so i guess that's just it.
be well,
stranger.

---
am officially debarred from computer graphics.
goodbye gross 3 hours of hell.

if i am stuck in np next sem, i might have to face you again.

oh golly no no no.

thank you God for letting mummy understand thank you mummy for being understanding.

sorry Mister liswanto. its not you. its me.
----------

worked at settlers today.
no pay trg again.
grr.
but it was real fun and Z and i had tremendous fun.
made new friends.
dawn, duh-guy and ben who's coincidentally kim yip's from tpjc.
small world world small world so small.

---------

class bonding At bukit timah plaza KFC.
saw vee, lookin real good as usual. =)
love your bangs bang bang.

it was drizzling real bad when i walked from tt ulu heartland mall to kap bus stop.
mighty long distance.
bad weather.
sloshy havis.
wrapped up in my colourfoool scarf.
icy cold toes.
wondered if i could actually get frostbite just from puddles on the ground.

rain rain rain wont chiu go away.
rainy days= hug days.

and my bestie's not in town so i get no 'fake' (pokes) hugs.

kinda hooked onto indie music thanks to someone.
revelation that pluggin into indie music and tryin to sing along to it while walkin in the rain with did i mention wet slooshy slippers? gives me a happy happy heart.

wanted to dance in the rain.
but i was alone and this type of things, cannot do it by one self.

one must find another utterly insane partner to go boogie-woogie in the rain.

i want to be the best i can
for me
for you.
maybe we'll go too far,we just dont care

abt me.