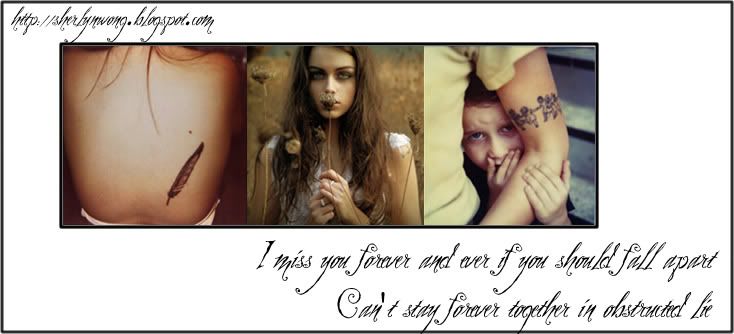 Saturday, December 15, 2007
Do you ever inflict unwanted memories?
Playingwithlightphotography #1.



I'll return under the cover of night
oh those were simpler times
we'd take a walk through the park and go out after dark
obsessed with only ourselves.
I'll return like a river running home


Christmas wishlist 2007.

1. Nikon D40X DSLR.
2. Holga camera.
3. vintage bag
4. Expired black and white film
5. Ribbons, Buttons and Lace
6. A Sewing Machine(dont laugh, i will pluck your backside hair(s)
8. A million bangles
9. French Films with Eng subtitles
10. Pretty Cloth (yeah, cloth.)
11. Drawings
12. Black and white photographs.
13. Hand-made Christmas Cards
14. Blue Roses
15. Tamagotchi
16. Polly Pocket (our cool generation last time,not the new beeg beeg ones)
17. Polaroid 500 film.
18. one whole year supply of arcade coins so i can time crisis 2 everyday.
19.ONE WHOLE LIFETIME SUPPLY OF TOFFENUT LATTE FROM STARBUCKS HAHAHAHA
20. Christmas Tree Decorations from Accessorize even though i dont have a christmas tree.

alrightyyy.
thats itttttttttt.
=)

yes,vedy vedy materialistic right this sherlyn wong.
should be shot
bang bang bang
die sher dieeeee.

and then next, the list of things i want want want for christmas which only GOD can give.

1. DSLR (HAHAHA GOD CAN YOU HEAR ME PLEASE SEND ME A DSLR FROM UP THERE PLS PLS PLS I NEED A MIRACLE ONLY YOU CAN GIMEEEEEE MY DSLR PLEASEEEEEEE )

2. pass my O level maths. Get into TP CMM.

3. BRACES. (dear daddy, you willl never read this but you promised to give me ka-ching for my braces for my birthday THIS YEAR AND i dont want to sound like a spoilt brat but it LOOKS LIKE YOUR NOT KEEPING YOUR PROMISE OMGAWD ITS XMAS ALREADY CAN I HAVE MY BRACES NOW OR ARE YOU GONA GIVE IT TO ME WHEN I TURN THIRTY WITH MY DECAYING TEETH ALL FALLING OUT POP POP POP?)

4. grow taller. (okay this one, i really really want.)

5. Recouncilation. Repair. Fix. (prolly only a certain few will know what im refering to)


#2


alrighty thats it.
gg shopping for Xmas presents next weeeeek.

to those you recieving them,i hope you'll like it. =)

#3.


such a different world from mine. sometimes, i feel silly.

Labels: CHRISTMAS LIST 2007
maybe we'll go too far,we just dont care

abt me.