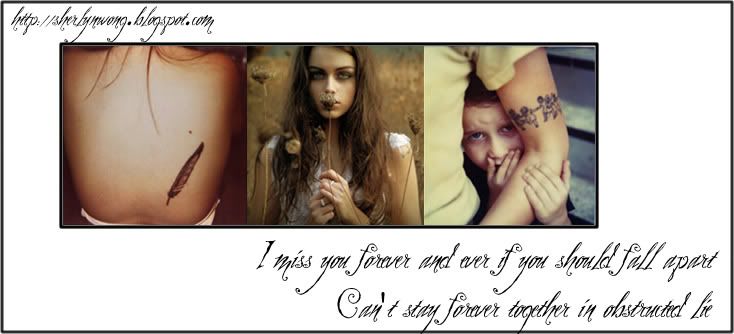 Wednesday, December 19, 2007
Goodbye, my almost lover
I cannot wake up in the morning
Without you on my mind
So you're gone and I'm haunted
And I bet you are just fine

Did I make it that
Easy to walk right in and out
Of my life?


No Visuals tonight
its 2.04 am.
have been reachin home around 12 plus 1 plus everynight.

feelin rather sick since i wake up early every morn and i lack sleep and did i mention my skin is pimple plantation.
YES I DID SO HERE I GO I SHALL MENTION IT AGAIN
I HAVE PIMPLE PLANTATION SKIN.

no one will ever marry me anymore i knew it i shoulda have been a nun,my primary school ambition.


TODAY WE DID FILMING AND HAHAHA SEDUCTION SCENE BY CRYS WHO STRIPPED FOR US THANK YOU CRYS YOU LOOKED DANG HAWT I SWEAR I THINK MR TAN REALLY GOT SEDUCED BY YOU HAHAHA IF IMMA BOY I WOULDA HAVE NOSE BLED AND DIED AND WOKE UP AND REPEATS CYCLE X10000.

FRIES AT KAP WITH DANIEL AND YUXUAN AFTER FILMING.
WE TALKED ABOUT FASHION AND BGR HAHAHA DANIEL WAS TALKIN ABOUT HIS GF OMG ITS SO SWEEET I HOPE THEY LAST FOR LIKE THE LONGEST TIME EVER EVER.

YUXUAN I WILL BRING YOU GO SHOPPING HOKAY.

DINS WAS PEPPER LUNCH WITH Z IN TOWN
BANANA TOWN AGAIN.

craving for choco cake and omgawd i did it i went to buy a chocolate cake and i gobbled 3/4 of it PIG SHER PIG SNORT SNORT PIG and Z and i sat outside taka steps and she ate her cream puff from BEARD PAPA which mm mm is quite decent i admit yum yum yum

OH YEAH I WAS AT THE TRAFFIC LIGHT YOU KNOW THE HEEREN AND CINE TRAFFIC LIGHT
SO I WAS STARING AT THE CHRISTMAS LIGHTS ACROSS THE ROAD AND GOING WAAAAA SO NICE AND THEN SUDDENLY I SAW THIS HOODIE BOY STICKING HIS TONGUE OUT AT ME. GREY BOY ADMIST THE HAPPY CROWD WHY SO EMO OH MY SOUL AND HAHAHAHA OMGOLLY IT WAS HOSAN DU DU DU WTHELL FANCY MEETING YOU THERE LIL BOYY HAHAHA.

then Z and i went to CINE POOL TO find Gab and the rest of his monster friends and hahaha vikram is damn irritating i swear.
THANK YOU SAL FOR THE TOPMAN CARD I DONT INTEND TO RETURN YOU EVER I HOPE YOU ARE MENTALLY PREPARED.

LAST MRT HOME MONSTER BOYS BEING RETARDED PLAYIN THE YO YO GAME AND EVERYONE WAS STARING AT THEM GEEEEZ SO EMBARRASSING HAHAHA.

and tmr i AM GOING TOWN AGAIN WTHELL I CAN WALK THE PLACE BLINDFOLDED AND HANDCUFFED AND WHAT NOT.

omg i love TYPING IN CAPS.
I HOLD THE SHIFT KEY DOWN WHILE I DO IT HAHAHA SO FUN I NEEDA GET NEW SHIFT KEY AND THE LETTER "H" AND "A"

BYEBYE SEE YOU TMR LIL HAPPYPIES STAYY HAPPYY OKAY SHER LYDD YOU YOU YOU!


MOOOOACKS.
maybe we'll go too far,we just dont care

abt me.