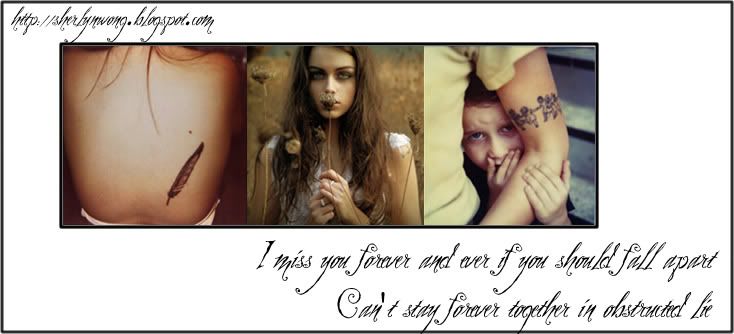 Wednesday, December 26, 2007
this time they held their gaze for too long
all the party people dancing for the indie star

i woke up around 12 plus in the morning.
coincidentally,just in time to say bye bye to Gab who's flying off to taiwan.
talked on the phone for a short while and his lil bro,daniel was so freakin adorable.

"who is thaaaaat! is it a girl or boy? TELL MEEEEEEEEE."

then after i bugged G to let me talk to him,

"hellooo. what's your name?"

"are youuuu my brother's girlfriend?"

"is there another boy who likes you?"

then he passed the phone back to Gab and said

"you like her but she dont like youuuuuu. "

hahaha

freakin cute stuff.

come come, jie jie sherlyn bring you go gai gai."



hurry come back Gabster rapester monster.
i cant wait for my yellow smiley balloon!
=) X1000.

also, a rather earth-shattering news.
Z couldnt meet me in the end.

I REALLLY spent christmas alone at home.
mickey Ds for din din hahaha wthell.

amazingly memorable.

last year i spent Christmas eve clubbing.
this year's mildddddddddd.

caught two movies on youtube.
love story (1970)

and

the shop around the corner
a 1940s black and white classic.

gawd. the witty dialogue.
awesome roarsome.

out with the netballers tmr.
coooolio.

i'll see your heart and raise you mine.
maybe we'll go too far,we just dont care

abt me.