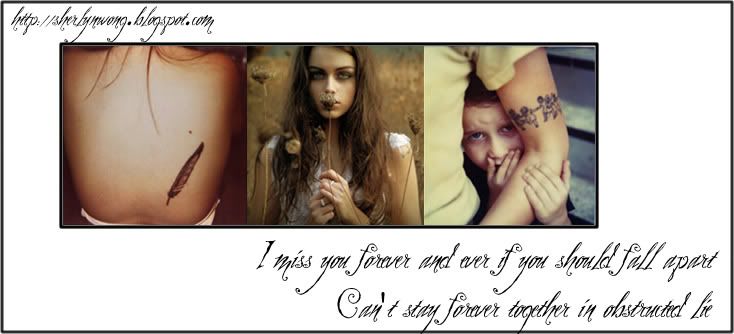 Monday, December 10, 2007
now faith is the substance of things hoped for , the evidence of things unseen


do you realize that an addition of a D to letter G and O gives you
GOD?

let GO.
let GOD.

i learnt that in church today.

TODAY, sundayy
i met up withh ann hin and we went down to Suntec for service at NEW CREATION.



its my first time and whoa the place is fab the speaker was fantastic and the sermon was superb.

seriously, it affected me a great deal.

talk about letting go of the past.

i am quite sure i have, when it comes down to him.
no one's gona enter anymore.

i have quite enough,thank you.

it comes to the point, that each time i come online
i no longer search for tt particular name.

that pleases me.

when the speaker talked bout letting go,
i immediately thought of them.

not even him.

and it made me relieved and yet, a lil sad.

let go.
let God.

makes me wana bare my fangs up to God.
breaking free.

had starbucks
toffee nut latte yum yum
after service.





down to taka.
visited Biee at taka and then dins with my mummy.
got a cuppa of stuff from GAP and ZARA.

talked to my mum bout getting the DSLR.
i wanted to pay 500.
(meaning more slogging/getting bullied) hours.

she said no.

sigh.

i am getting really pissed off with my camera phone.
seriously.

ahh shoots.
forget it.



im feelin troubled.
maybe we'll go too far,we just dont care

abt me.