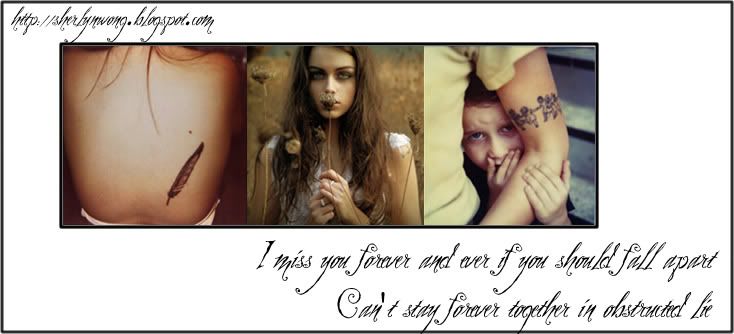 Thursday, December 27, 2007
Reveal.
got really annoyed last night.
stop taking me for granted okay?
maybe you were special to me then but its just not the same anymore now.
that phone call was infuriating.
i am not going to go all out just to please you.
i would last time but you know what.
you are stomping all over me.

Quite frankly,i had enough.

Christmas lunchy with poo gang minus tab plus mk l8er at VIVO.
yum yum cant w8.
=)

Also, God. may i please have a sign?
i know im not supposed to fret but this time
i really cannot decide the path im supposed to take.

and its getting rather frustrating.

Show me. Show him. Show them.

Thank you Daddy.

i had a funny lil dream last night.

also, i dont think i mentioned it
but tt night at Balcony right.

i had SHIRLEY TEMPLE.
hahaha.

SEE GABE, not wildchild.
maybe we'll go too far,we just dont care

abt me.