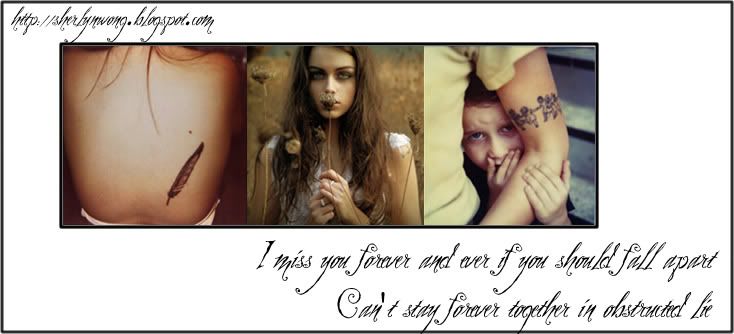 Friday, December 21, 2007
there's a burning in my pride a nervous bleeding in my brain.


You don't have to move, you don't have to speak
Lips for biting.
You're staring me down, a glance makes me weak
Eyes for striking.

happyy hari raya!
i love seeing malay families
so together gether makes me hei bie bie bie bie.


Town with G to get Z's present.
thank you for accompanying me.
we didnt get to (i didnt get to thrash him) playy timecrisis 2 but thats okay there's still another day.
girlfriend's gona leave for taiwan on christmas dayy.



shucks. no one to play with.
no one to irritate me on msn.
no one to shout
"shut your mouth la gabe." "eh why you so rude" "wash your mouth with soap la" and then my favourite hand action to shut him up. hahaha.



down to settlers and i made a new friend,karen yayy =)
she's seventeen,like me and studyin in SIM.
she had to leave cause her shift was over but thats alright im sure we'll work together again.

so i was the only girl and the boys tried to act all macho but in the end its seriously "metal exterior,subway cookie interior"

they cooked a hell load of food for me and didnt even charge me although technically, i was supposed to payy.

Z came and visited with soo yue =)

iwas helluva suprised when she came with a cheese muffin oh mygolly idk why but i felt so happy when i saw tt muffin.

surprises like that make me real happyy.

played games this job is super slack i like it but i wish there was more stuff to do.

tmr, im gg to work with ann hin at MAESTRO BISTRO
7pm to 3 am
on a fridayyyy night.

i will be missing church that sucks but thankfully that's sat so thats cool too.



feeling a lil hollow tonight.
kinda asking God why but mostly, trusting Him.
no matter how it turns out to be, im just gona go ahead with a passive heart.

goodnight yoar.
and also to those who have e-mailed me on the green f21 dress,thank you i will upload piccas of it here real soon kae =)

Labels: town settlers muffin
maybe we'll go too far,we just dont care

abt me.