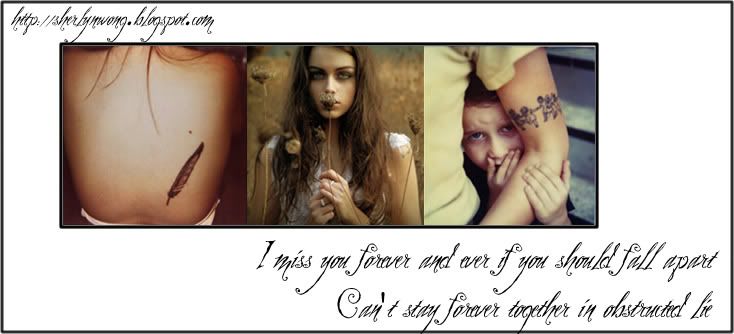 Sunday, September 27, 2009
heavy full heart
And So its Sunday already
got myself two Jodie Picoult books earlier this week
And am ppppretty preoccupied with the first novel.

Thurs saw me with episode 101 of dysfunctional family
fucking abusive asshole brother.
dont you fucking dare touch me again.
hypocrite to the core.
i dont want to talk about it im just really fed up.
i dont hate my life im just sick of it.
absolutely sick of it.

Friday
Town for a round of shopping with my mum.
i love my snakeskin glitter cardigan, Snakeskin bag from Zara and the Topshop earrings and the Accessorize ones and the headbands
and the shoulder pad dress and sequin skirt sianz im such a conformist to the latest trends.
please dont beat me i scared.

Astons for 11th month with nick.
After that, Friday night saw me with nicky zer and royston at Changi Chalet again
INTOXICATION: ENCORE
i thought the party was a big flop in the sense that the police came and it was all hell broke loose
2 hundred over people
talked to the cops (CID HAHA), that was okay.
im legal didnt do any drugs didnt cause any shit so that was okay.

but i felt really bad for lester, the organiser of the party
cause some fucking losers decided throwing bottles down from upstairs was such gr8 fun
and then there were fights and cars were almost knocking drunk assholes running across the road.
not to mention the fact that he had to fork out a whooping 1.9 K cause of the assholes who damaged the furniture, broke the fence and played with the bloody fire extinguisher.

also,
a friend got punched and all in all it was just a horrible wild night.
glass bottles glass debris all on the road
poor cars that zoomed and honked violently.

so everyone pretty much cleared out when the police came
a huge mess, i kind of had fun just mingling around and watching the crowd
didnt do much
so when the fights happened, it was more of the cowardly part of watching people 'rave on'
phooey.

Saturday
bummed around the whole day
nick and i are still so very sick idk why
at night, skipped Butter and went down to bukit timah for Poker i won 38 bucks
i was on a roll last night.
hooray enough to pay back zer the 30 bucks from the night before.

Its Sunday and boyyyyy am i feeling the blues.
movie tmr with Z and shoes to be bought, traded and changed.
cant wait for the 3 pairs. hooray.
Pictures when i feel like it.

im still really pissed off with my asshole brother
after staying over at nick's on THURS FRI AND SAT its sunday and im on my 2 weeks study break and everyone is busy working
or going to BKK sianzipua i also wana go.

heartache.
this pounding drumming heartache i cannot comprehend.
maybe we'll go too far,we just dont care

abt me.