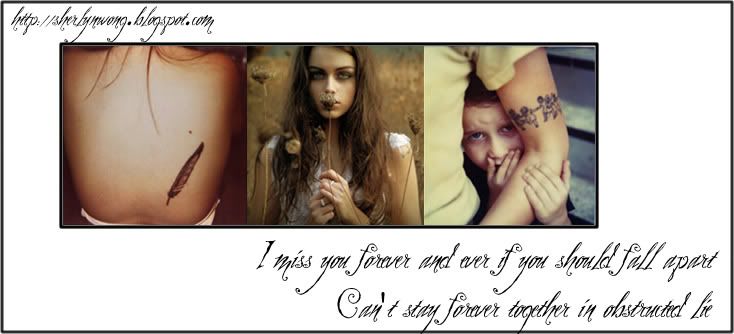 Tuesday, July 06, 2010
i hope we never ever outgrow each other












everyone not should follow pris and i on twitter.

we have yet to outgrow the whole tweet non-stop process and

its fucking annoying when someone keeps tweeting.

lol so please, unfollow us.




"Because he has been a major part of your life, of course you'll miss him; it's perfectly normal. It's like getting a tooth pulled out ; after the dentist pulls it out you're relieved. But how many times does your tongue run itself over the spot where the tooth once was? Probably a hundred times a day. Just because it was hurting you does not mean you don't notice it. It leaves a gap, and sometimes you see yourself missing it terribly. It's going to take awhile, but it takes time . Should you have kept the tooth? No, because it was causing you pain. Pulling the tooth was the right decision, but it's going to hurt."

"Cause I've seen more spine on jellyfish.

I've seen more guts in eleven-year-old kids.
Have another drink and drive yourself home.
I hope there's ice on all the roads.
And you can think of me when you forget your seatbelt,
and again when your head goes through the windshield."






maybe we'll go too far,we just dont care

abt me.