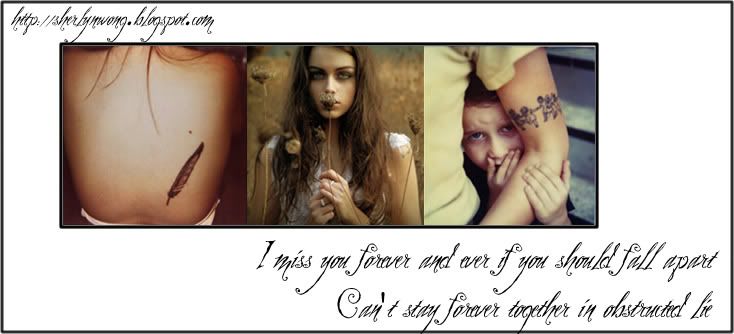 Thursday, December 02, 2010
Dear you,

if i can wake up every day at 5 am to reply your msg, even though how fucking sleepy i am or how fucking late i sleep. or pick your call and talk until you feel better, i dont see why its 5 plus in the morning and you cant fucking stay up for ONE FUCKING minute to not fall back asleep.

first of all, i know we both didnt sign up for this, you being in fucking army but if i can put in the effort, you should too. i am fucking pissed off now with you. major fucking pissed off to the point of tears of anger and let me tell you this, i am SICK AND TIRED OF YOU BEING IN THE FUCKING ARMY FUCK ARMY FUCK ARMY!!!!!!!!!! 25 months and one fucking minute also cannot spare?




im fucking, fucking. fucking. upset with you now.
maybe we'll go too far,we just dont care

abt me.