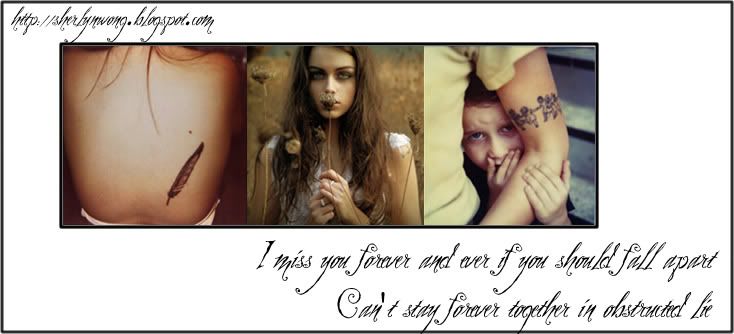 Tuesday, June 14, 2011
And then you came along and changed everything



Things i did recently

went to MDIS alone to collect my advanced diploma, due 1 and a half years ago but lazy bones took over so i finally got up and did it
and took a $7.20 cab down from there to SIM to apply for RMIT bachelor in communications (if i do get in, i will enlist(haha) in September and then get my degree by june '12 (which is super mega fast) Does anyone know anyone who's going there? please tell me on my fs! i am actually worried about having to study again after not using my brain for so long, i dont think im capable of memorising and mugging again oh nuu.
Getting this degree would set my mum back $13 400++ , a sum which no one in the family has.
Therefore, i hope the bank robbery will go as planned. smoothly without any glitch
got really really mad with the army for robbing away nick's weekends
He is doing ndp and therefore can only come out every saturday after 11plus PM (yes pm) and back in to camp on sunday for yet another week of drudgery. no off day on monday. and did i mention his extra duty this sunday? so he's basically fucked and cant come out at all. did i also mention that he got ZERO block leave when he came back from germany? he actually booked in the next morning at 8 am after he got back to Singapore around 4 in the evening. yeah, go on ahead and exclaim, what the fuck.
sigh.
am also attempting to try and lose weight, i am the heaviest i've ever been and im really sad over that. can i be outrageous and go for 5kg before phuket? but my trip is in less than 2 weeks so i guess im going there fat as usual
negativity aside, i am really looking forward to whatever may come my way.
june will be a busy month with a flea market in chinatown this sat, june 18th, pris's 21st on sunday..phuket till july. my final theory test, then practical lessons.. plus hopefully the phonecall from SIM in august. (what a long-winded sentence!)
i wonder how the next last half of the year will be like. these days, i spend my time wistfully staring at pictures on tumblr, wishing i was anywhere but here.
maybe we'll go too far,we just dont care

abt me.